SKIP MOLD PRODUCTION AND PRINT END-USE PARTS DIRECTLY
Massivit's 3D printers are used to create a wide range of maritime end-use parts such as dashboards and radar masts for yachts. These parts can be printed in hours, keeping ships, yachts, and boats out of repair bays and out to sea where they belong. Plus, by directly printing these parts as one single piece, they can easily be sealed for waterproofing while still designed with ergonomic contouring. Thanks to the remarkable size of Massivit's 3D printing systems, the greatly reduced number of components required for the final build leads to a corresponding increase in error tolerance. This capability is of particular interest to the marine industry, where certain components must be 100% hermetically sealed against water. Massivit 3D's technology can also be leveraged to print groundbreaking boat prototype models at breakneck speeds.
Customized End-Use Parts – fins, masts, radar antennas, dashboards, rooves, extensions
Interior Fixtures – bathrooms, sinks, & design elements
Directly-Printed Large Molds
Full-Scale Prototypes
Print speeds up to 30x faster equal savings in time and money
Full scale components result in a higher level of precision
Aesthetics and functionality blend seamlessly thanks to cleverly designed slicing software
Create hollow, lightweight, high-strength parts with little to no support structure
Optimized thermoset materials provide resistance to salt-water corrosion
Reduce material waste and environmental footprint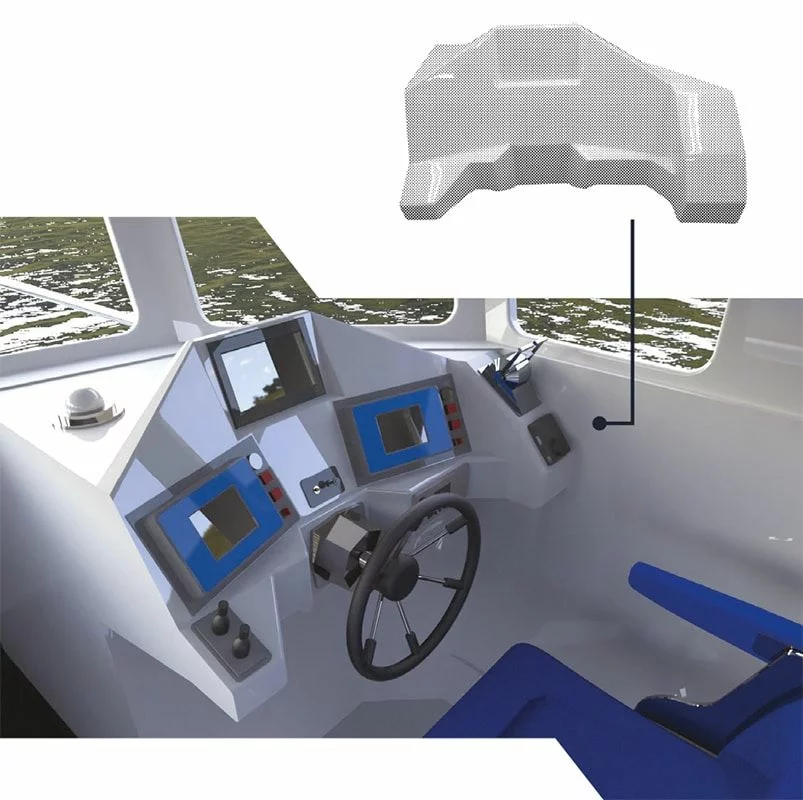 Onsite Production of Large Marine Parts within Hours
Production of custom maritime parts traditionally requires extensive manpower and lengthy periods out of the water, resulting in high costs. Find out how this leading service provider for vessel maintenance and repairs is now able to produce custom marine vessel components faster, cheaper, and with far less wasted materials.