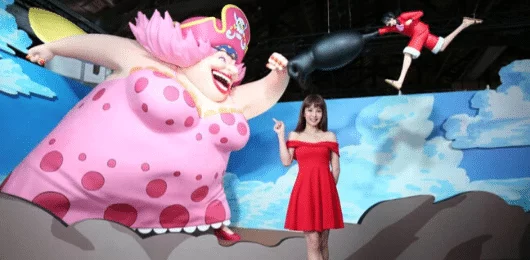 Lod, Israel, 17th October 2019 – Best-selling manga and comic series of all time, One Piece, has marked its 20th anniversary with an exhibition featuring 24 huge 3D printed replicas of its leading characters which have been produced on a Massivit 3D printer.
Visiting fans have been able to interact with all the characters that have ever appeared in print or animation during this two-month show in Taipei, Taiwan.
One Piece, written and illustrated by Eiichiro Oda – an artist renowned for changing the history of manga – has recorded the highest initial print run of any book in Japan. There are more than 450 million in circulation worldwide. It also set a Guinness World Record for "the most copies published for the same comic book series by a single author". One Piece has been adapted into a festival film, an anime series, thirteen animated feature films, one original video animation, thirteen television specials and developed into a media franchise.
SID Installation Art was commissioned by event organizer Remake Works Co., Ltd and One Piece Mugiwara Store Taiwan, to bring these immensely popular characters to life using their Massivit 3D 1800 Pro 3D Printer. Fans at the event have reveled over the characters, interacting with the 1.8m-5m (5.9ft-16.4ft) tall models and sharing augmented reality clips of themselves on social media via the event app that films them in customized scenes.
Previously, SID Installation Art worked predominantly with Styrofoam and fiberglass to produce gaming and manga-related props. However, they found this process to be very tedious, requiring a lot of skilled labor and time. 3D printing has proven to be faster, with more creative possibilities, and capable of executing highly complex jobs in dramatically less time. For this reason, the business chose to incorporate large format 3D printing production capabilities into its offering with the adoption of a Massivit 1800 Pro 3D Printer. As a result, SID Installation Art has now established key relationships with events, exhibition and gaming producers, interior designers, and architects.
Hung Jui Chia, COO of SID Installation Art, said: "3D printing has proven to be a real game changer for us in terms of our overall turnaround time, the accuracy we're able to achieve, the production size, and new possibilities for creative vision. Although our team is nationally recognized for its expertise in hand sculpting, the benefits of digital, large-format 3D printing are clear. We've dramatically reduced our lead time on projects due to the ability to share the initial digital 3D model and iterations with clients in order to finalize design specifications quickly and with the confidence that the 3D model accurately represents the final output. Moreover, the Massivit 3D printer enables us to produce models in half the time it would have taken with our traditional manufacturing processes, largely because we no longer need to create a preliminary mold which is the bottle neck. This means we can accept a greater volume of jobs – our Massivit 3D printer is in use 18 hours per day".
"Creating props and scenic environments based on digital 3D models also brings us far greater design flexibility so we can propose and implement unique props and models. In the case of this high-caliber One Piece anniversary event, the event organizer, Remake Works Co.,Ltd, is an innovative organization that required top quality production and was keen to try a new manufacturing process. 3D printing has allowed them to bring these characters to life so that One Piece fans can literally meet, touch, and interact with the characters they have grown to love on the page and screen. It is a great way of drawing the global community and celebrating."
Erez Zimerman, CEO of Massivit 3D added: "We are delighted that the highly-skilled and creative team at SID Installation Art has been able to adapt their expertise to deliver such a breathtaking series of outstanding, 3D printed masterpieces. Building on their accumulated know-how in sculpting high-quality props and statues, they have been able to visualize just what is possible using Massivit 3D solutions and to bring these characters to life for a global audience. The results demonstrate how scenic fabricators can now execute huge creations at unprecedented speed. We look forward to helping our rapidly-growing community of customers in the entertainment industry discover how 3D printing can inspire and propel a fresh approach."
About Sid Installation Art
Sid Installation Art Co Ltd.,(www.facebook.com/SIDinstallationart/), was founded in 2017 by the company's renowned CEO, Mrs. Chiu. The company has 40 years of experience in Fiber-Reinforcement Plastic (FRP) product making and polyester molding for customized figures, public art works and figure materialization. The CEO's successor, Hung Jui Chia – the company's current COO, acquired Massivit 3D's large format 3D printer enabling Sid Installation Art to become the leading manufacturer of large format 3D printing in Taiwan. With its team of professionals, the company provides high-quality OEM production and serves customers worldwide, offering a range of services in design, consultancy, and courses in large format 3D printing applications.
About Massivit 3D
Massivit 3D Printing Technologies Ltd. (www.www.massivit3d.com) is a leading provider of large format 3D printing hardware for visual communication applications. The company's solutions enable the creation of super-size advertising, promotional and other marketing-oriented 3D printed sign and display projects for a growing range of sectors – including retail, events and exhibitions, entertainment and architecture. Massivit 3D's proprietary Gel Dispensing Printing (GDP) technology leverages the company's unique, instantly-curing printing gel, Dimengel, to quickly and cost-effectively produce lightweight, hollow 3D printed models up to 1.8m / 6ft high.
Founded in 2013 by a team of digital printing pioneers, Massivit 3D is headquartered in Lod, Israel, and serves customers worldwide with end-to-end services and through a well-distributed network of global resellers.
MASSIVIT MEDIA CONTACTS: