While the need to iterate on products swiftly remained, it wasn't until certain technologies reached a maturation point that true rapid prototyping in the automotive industry could be achieved.
Additive manufacturing, also known as 3D printing, has been around since the 1980s. Now, after decades of evolution, this crucial technology has reached an inflection point, becoming exceedingly relevant in various fields of engineering. More specifically, by allowing manufacturers to produce lower cost, higher quality prototypes, 3D printing technology has ushered in the next generation of rapid automotive prototyping, dramatically altering the entire design and production process in the automotive industry.
The Shift to Automation 
Historically, the solutions available to this industry have come from traditional methods. Prototypes for the automotive industry were often painstakingly hand-crafted from materials such as wood, clay, foam, and metal. Companies would be forced to wait for certain critical components of their prototype, significantly impacting their ability to test the product and enter into production.
The shift toward automation did open up new opportunities, yet they fell short of their potential. For instance, computer-aided CNC milling could be faster, but the high operating cost and wastefulness of materials meant it could be prohibitively expensive, not to mention the geometrical limitations of certain fabrication methods. The time spent and money wasted along the way contribute to astronomical delays and budget constraints, thereby preventing manufacturers from exploring a wider range of design options.
Thus, the paradox. To truly create groundbreaking product designs, one needs to be able to cast a wide net and experiment. Yet, without rapid automotive prototyping to quickly prove out (or disprove) product design concepts, you are limited by time and budget. Designers simply can't waste their resources on out-of-the-box ideas for fear of falling too far behind a rigid go-to-market timeline.
Rapid automotive prototyping enables car designers and engineers to save time and resources from step one of their process. If you're unfamiliar with the process, it is rather simple to explain. Eschewing the old practice of blueprints on paper, digital models are employed using advanced CAD software which are sent directly to a 3D printer. The printer takes these digital plans and begins dispensing fine layers of material.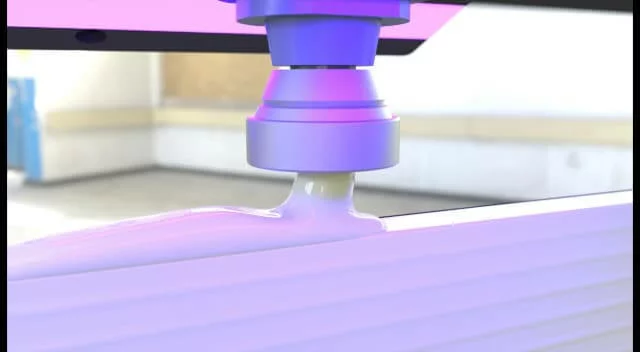 2D-layer after 2D-layer, the printer applies gel according to the geometric plan, and these layers add up vertically, eventually resulting in a single 3D solid part (which is why the academic term for 3D printing is additive manufacturing: because it's adding layers upon layers) The materials used in these 3D printers allow engineers to design components of varying rigidity, density, weight, resistance to heat and certain chemicals, etc.
Challenges for the Automotive Industry
There are different types of printers to fit varying needs, each with different technological approaches on how to deliver the best results. Yet, regardless of the type of printer, the technology as a whole has always been limited by two main factors: size and speed. Most 3D printers are only capable of producing smaller parts, since full-size parts are simply too big – and even if they were able to fit the size, the slow rate of printing such large pieces would render nearly any project too expensive.
This is problematic, both in terms of additional time required as well as the structural integrity required in prototypes for industries such as automotive. Even if a printer was able to print a larger-than-usual piece, they work incredibly slowly, often requiring several days for a single part to be created. These limitations caused both serious delays and increased costs in the development stage, denying automakers the flexibility to rapidly develop and test new prototypes in a cost-effective manner.
Thankfully for automakers, next generation additive manufacturing technology is already here. Printers such as the Massivit 1800 Pro 3D have changed the rules of the game, by enabling the creation of larger and more complete products than ever before, in just a fraction of the time. This development has set the stage for the kind of rapid automotive prototyping for which the industry has long pined for.
Taking the Next Step in Automotive Prototyping


Massivit's vastly improved rapid prototyping technology is capable of producing complete parts up to 6 feet / 1.8 meters in length, which is a significant increase from market norms. This allows automakers to produce life-sized components such as bumpers and body panels for their mockups, something that could previously be done only with miniature models, or by a heavily-manual fabrication process with much higher labor costs and time requirements. Additionally, Massivit has dramatically increased the speed of printing so that these larger components can now be delivered in a matter of mere hours.
A perfect example of this happened at the 2019 SEMA convention in Las Vegas, where we teamed up with STREETFIGHTER LA to launch the STREETHUNTER DESIGNS 2020 Supra MK5 Wide Body Kit. This brand new kit included all the body panels and the dynamic rear wing for a fully customized vehicle.
Toyota Supra MK5 Wide Body Kit Launch, 3D Printed by BCT Entertainment for STREETHUNTER DESIGNS.
Typically the production of these parts would take weeks, and they would then need to then be transported to the show. Printing them locally with the Massivit 1800 Pro 3D printer took just 64 hours for over 16 parts. This includes printing the front lip and rear spoiler as single parts, each nearly 5 feet long.
Toyota Supra MK5 Wide Body Kit Launch, 3D Printed by BCT Entertainment for STREETHUNTER DESIGNS.
Whether it is a functional customized kit such as the one pictured above, or prototypes to be tested before entering the production line, the applications of large volume 3D printing with a Massivit printer are endless.
Want to hear more about how we can help your automotive business? Contact us today!